Attendees at the Designing Sustainable Mobility Summit in Southern California drove some of Volkswagen's vehicles sporting the latest in alternative energy engines including biodiesel and hydrogen. This story on the Italian website, DueMotori.com, says those participating got the chance to try out these alternative fuels in a real-world driving environment… on local public roads:
"It's important to demonstrate that raising the bar in such important areas as fuel efficiency and emissions reduction isn't just accomplished with exotic or future-oriented technologies," says Ron Cogan, editor and publisher of the Green Car Journal, which is hosting the Summit's ride-and-drive. "Volkswagen's demonstration of its clean diesel and twin charger engines provides real-world examples of environmentally positive technologies that are operating on highways today."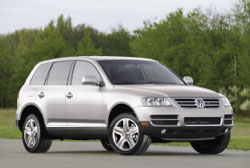 VW brought out a Touareg V-10 TDI that runs on B5 biodiesel, a Jetta with a highly efficient TSI engine… popular in Europe and possibly coming to America… and Volkswagen's Touran HyMotion hydrogen fuel cell vehicle.
This event was similar to what VW did at the National Biodiesel Conference earlier this month (see Chuck's previous post).