Missouri's State Department of Economic Development says Missouri will see $542 million each year for the next several years from the biofuels industry in the state.
From a press release on Governor Matt Blunt's web site: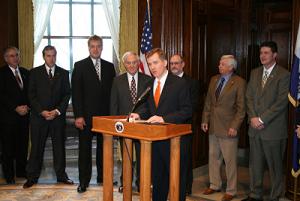 "The production of renewable fuels is one of Missouri agriculture's greatest success stories," Blunt said. "In the same way that Missouri's family farmers rose to a great challenge and fed the world in the last century, this century's family farmers will answer another noble calling and fuel America. This study shows that renewable fuels will not only help reduce our dependence on foreign oil, but also create jobs and economic growth."
According to the report from the Missouri Economic Research & Information Center (MERIC), ethanol, biodiesel, and other alternative fuels create 7,000 jobs for Missouri workers each year.
There are four ethanol plants operating in Missouri… in Craig, Macon, Malta Bend and Laddonia… and there are three biodiesel plants… in Bethel, Bunceton and Mexico. Several more ethanol and biodiesel plants are in the works.
Blunt has called for full funding for the biodiesel and ethanol incentive funds and has proposed another $5 million to make up for payments to the ethanol fund not honored before he took office.