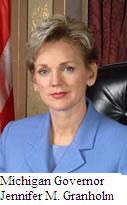 The Detroit Free Press is reporting today that in tonight's State of the State address Michigan Governor Jennifer M. Granholm will call for $100 million in state spending over the next three years on alternative energy in Michigan.
Here's some of the anticipated highlights:
• Investing about $50 million over three years in public and private sector money to pay for the research and pilot programs of alternative energy companies in Michigan.
• A loan fund of about $12 million that would help the state's alternative energy entrepreneurs reduce their debt and lower costs of capital access for renewable resources.
• Spending about $7 million to install about 1,000 biodiesel and ethanol pumps across the state by the end of 2008.
• Targeting $20 million of state money and at least $11 million from private resources toward the Venture Michigan Fund to help the commercialization of alternative energy companies across the state.
In addition, Granholm is expected to call for legislation that would require utilities to produce at least 10% of their energy from alternative sources such as wind and biofuels.