Officials in Wyoming, the country's largest coal producer, believe the state could become a leader in using wind to generate power. This story in the Casper (WY) Star Tribune says the state ranks as the seventh windiest in America and has 14 million acres of windy land: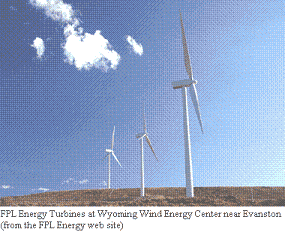 "Wind energy is the fastest growing energy technology in the world, and the future looks bright for this clean energy source in Wyoming," said documents from FPL Energy, which owns and operates the Wyoming Wind Energy Center near Evanston. "The state has world-class wind resources, the technology is improving and the costs are coming down, making wind power cost competitive with other forms of electricity generation."
The Evanston center powers about 43,000 homes, and Wyoming has two other wind generation sites… one south of Cheyenne, and one in Medicine Bow. The article says the potential for wind electrical generation in the state is 883 million megawatt hours per year. Wyoming used only 12 million megawatt hours in 1999.