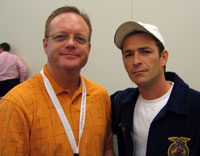 Celebrities are all about biodiesel in California, apparently. Here is my husband with "Beverly Hills 90210" star Luke Perry, who was at the National Biodiesel Conference in San Diego to show his support. He and actress Daryl Hannah held a joint press conference today just to say how much they like biodiesel. Perry was also showing his support for his buddy, author Josh Tickell, who introduced his new book "Biodiesel America" tonight at the conference.
Singer Willie Nelson will be there tomorrow and Wednesday.
Our daughters – aged 17, 18 and 23 – are usually not all that impressed with what mom and dad do for a living. But, they were pretty excited to see dad with this teen idol, I can tell you that. Even though the first run of 90210 was a bit before their time, they watched it all the time in syndication – and they think he's still a heart-throb even though he's over 40!