A waste-to-energy demonstration has kicked off on the campus of the Hawaii Air National Guard (HIANG). Sponsored by the High Technology Development Corporation's (HTDC) Hawaii Center for Advanced Transportation Technologies (HCATT) the $6.8 million project showcases the efficacy of converting 10 tons of waste per day to electricity to generate a net 200 to 300 kW of baseload power using four generators run from the syngas produced by a gasifier. The demonstration will continue through this summer, and was facilitated through a contract with Biomass Energy Systems, Inc. (BESI).
"The system itself is clean, highly reliable and rugged," said Renee Comly, president and CEO of BESI. "We are most pleased to demonstrate how a waste to energy generating system like the installation at Joint Base Pearl Harbor-Hickam provides a range of real world advantages and benefits, and how it can play a vital role as we transition towards a world powered by clean energy."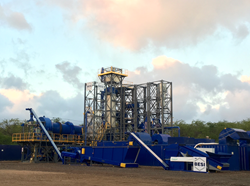 The Air Force Research Labs (AFRL) selected the Hawaii Air National Guard's 154th Wing to demonstrate an integrated micro-grid concept that tests the viability of using renewable energy and micro-grids to assure that the U.S. Air Force (USAF) can continue mission critical operations regardless of the state of the public utility grid or cyber-attack. Phase I of the micro-grid will utilize a rotary kiln gasifier that turns waste into fuel, heat and electricity.
U.S. Senator Brian Schatz, who was instrumental in supporting the USAF selection of Hawaii, officiated the demonstration ceremony. "Alternative energy research and development is one of the smartest investments that the military is making today and one that is projected to save lives," said Schatz. "Hawaii is on the leading edge as a testbed for a variety of renewable energy systems and micro-grid technology that will benefit the entire state."
JBPHH was selected based on Hawaii's variety of renewable energy sources, the high cost of electricity, and complexity of the Hawaii Air Guard's 154th Wing, which operates the F-22, the most advanced fighter in the U.S. inventory. Continue reading →