I recently read the novel Flight Behavior by Barbara Kingsolver, a book about climate change. When I first began reading the book I had no intentions of doing a review, but as I got deeper into the book, and the characters voiced their opinions, about media in general, my intentions changed.
The premise of the book is that millions of monarch butterflies migrate to a rural area in Tennessee for the winter instead of going to their usual location in Mexico. After they are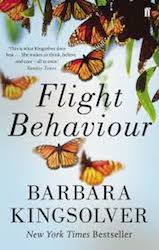 discovered by Dellarobia on her family's land, and the media gets involved with a news story, people from around the world begin showing up including a scientist. The next several months the scientist, Dr. Ovid Byron, and his team attempt to ascertain why the monarch butterflies wintered in Tennessee.
There have been discussions in the media and scientific journals about how monarchs are decreasing in population. While some believe the cause is climate change, others believe it is the use of pesticides and some believe it is a combination of both. For example, Andre Leu, IFOAM President and author of The Myths of Safe Pesticides, quotes in his book, "Herbicide-resistant plants….have increased the use of glyphosate, which kills all other plants including milkweed, the only type of plant that monarch butterflies use for laying their eggs." The author cites that milkweed has declined by 60 percent and monarchs in the U.S. that winter in the forests of Mexico has dropped from 1 billion in 1997 to 33.5 million. The milkweed fact above was mentioned in Flight Behavior.
I"m not going to use this space to debate climate change; rather, I'm going to use this space to discuss the role of media in the conversation. Today, media is quoting "experts" about climate change (and other issues) that are in fact not experts at all. Where are the credible scientists and researchers who are doing the work around climate change in this conversation?
Many scientists do not like how they are portrayed in and by the media. Reporters often spend more time being skeptical about the facts being delivered by a respected scientist then they do when speaking to a person who uses social media to get his/her word out effectively but has no basis in training or education to be discussing the scientific merits of an issue. (In other words, scientists don't speak sexy talk).
Dellarobia and her husband Cub, give us an example: "Here's the thing," she said. "Why would we believe Johnny Midgeon about something scientific, and not the scientists?" Continue reading →