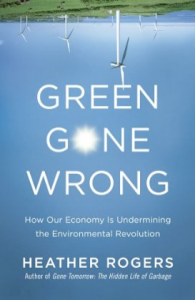 Everyone has an opinion about the veracity of global warming, except, maybe global governments who are pursing economic improvements on the back of climate change. The quest for the reduction of greenhouse gas emissions, and predominately carbon dioxide (CO2) has led to a spurt of new research around the development of more sustainable practices and technologies. But at what cost to the environment? This question is asked and answered in the new book Green Gone Wrong, by Heather Rogers.
This question may on the surface sound like an oxymoron. How can you be developing technologies to reduce CO2, yet hurt the environment at the same time? According to Rogers, this is in fact happening every day, all over the world. Rogers breaks up the offenses into three categories: food, shelter and transportation.
The crux of the food section studies what organic farming really means (or doesn't mean) and the movement to "beyond organic". The next section discusses green building and the last section studies transportation, where I will focus. One element that is weaved throughout this section, is the discussions of the validity of carbon offset programs.
Many of the arguments she presents in the section are not new. She writes about biofuels, "As for ecological sustainability, biofuels have been widely discredited. The energy efficiency achieved with ethanol is dubious and a source of much debate. While some researchers say more energy goes into making ethanol than the alt-fuel can supply, others estimate a positive energy balance. A commonly cited figure is that for every gallon of fossil fuel used in production, only 1.3 gallons of corn-based ethanol can be refined. Either way, by now it's apparent that biofuels pressure both ecosystems and the access to food." Continue reading →