What better way to promote E15 than in conjunction with some of the fastest cars on the planet- NASCAR race cars. This weekend E15 was featured at the Iowa Speedway during the American Ethanol E15 250 presented by Enogen. On hand for the race was Jim Pirolli with Des Moines, Iowa-based Kum & Go, who is one of the Midwest's leading fuel retailers in rolling out ethanol fuel blends including E15.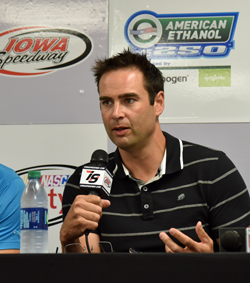 Chuck Zimmerman was able to learn more about Kum & Go's commitment to ethanol before the official start of the race. Pirolli said the fuel retailer has had ethanol in their gasoline for more than 40 years dating back to when it was called gasohol. In the late 1990s, they rolled out E85, one of the first retailers in the country to do so. Then a year ago they made the decision to launch E15- the fuel of NASCAR. When they decided to do this, said Pirolli, they did a lot of work with Growth Energy and American Ethanol to look at consumer preferences as well as to better understand what cars can use E15, and what drivers are going to want at the pump both now and in the future. All signs pointed to ethanol so Kum & Go decided E15 was the way to go for the next generation, higher octane, more environmentally friendly fuels.
Today Kum & Go has E85 at 200 stores and they have rolled out E15 at 30 stores with plans for E15 pumps at more than 100 stations by year end.
Pirolli said customers love E15. The company is currently doing a blue hose campaign to drive consumers to the stores. Once there, they look for the blue hose that pumps E15, the fuel of NASCAR drivers. "They see that E15 is 10 cents cheaper than E10 and they understand that it's a safe fuel to use and that it will give them better performance, and they are filling up."
To learn more Kum & Go's E15 plans, listen to Chuck Zimmerman's interview with Jim Pirolli here: Interview with Jim Pirolli, Kum & Go
You can find lots of photos from Iowa Speedway race weekend here: Enogen Syngenta NASCAR Photo Album