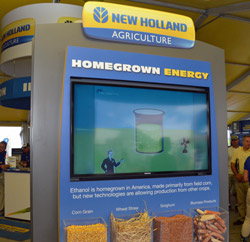 During the Farm Progress Show last week several companies featured some cool technologies and displays featuring agriculture's role in producing clean energy such as biofuels. One partnership that has been very successful is that between New Holland and Growth Energy. New Holland has very publicly shown its support for ethanol has developed equipment for farmers to more easily harvest their energy crops.
When visiting the New Holland booth not only could you see this amazing equipment, but you were able to see a model ethanol plant – thousands of Farm Progress attendees have never has the opportunity to visit an ethanol plant.
In this video with Kelly Manning, vice president of development for Growth Energy, you can get your own virtual tour of the ethanol plant. The educational display was under glass and the ethanol plant was built to scale demonstrating the role feedstocks play in the production process as well as how the products are delivered from the plant.