There is gold in Mexico. Not the kind you wear around your neck and fingers in the form of jewelry, but the kind that produces renewable energy. The field of energy dreams lies in the Sonora Desert in Northern Mexico, and some experts believe that only 25 square kilometers could provide enough solar energy to supply Mexico's 114 million residents with power.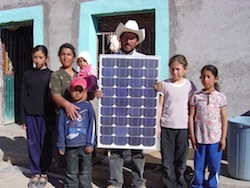 Although the country is blessed with lots of sun, the solar industry is still in in infancy. The Global Horizontal Irradiation (GHI) averages nearly 5 kWh/m2/day, making Mexico a great place to invest in solar energy. But how do you attract investors in a time when many are hesitant to invest in renewable energy, despite it's bright outlook? This will be one of the main themes during SolarPlaza's El Futuro Solar: Mexico conference that will be held in Mexico City on February 28, 2013.
"We´re at the very beginning of formalizing the market," said Carlos Flores, CEO of Conermex, a Mexico City-based company specializing in renewable energy solutions. He will be one of the speakers at the event. He notes there are still few incentives for investors in terms of subsidies or injection tariffs. "One of the problems is the cost of solar power for private users with high levels of consumption; the industrial sector pays much less."
Although efforts have been made to make the market more attractive, there is still a long way to go to reach the country's solar energy potential. To date, solar development has been mainly focused on small scale projects in rural areas to provide communities with off-grid electricity. This, however, is changing and more large solar projects are under consideration. Flores add that not only do solar projects needs to be developed, but the domestic market, including manufacturing, need to be developed as well.