New findings by the Solar Electric Power Association (SEPA) have found that solar power is the fastest growing source of energy for the utility sector in 2011. Solar power capacity grew by 120 percent from 2010 as utility companies contract for more solar power. In 2011, utilities installed more than 62,000 PV systems of various sizes that equates to nearly 1,500 megawatts of electricity per year. If the pace of solar power adoption continues, 2012 should be another record breaking year.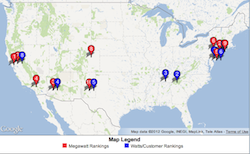 "In addition to the photovoltaic systems added by customers and third-party producers, much of the growth has come from the direct actions of utilities," says Julia Hamm, SEPA President and CEO. The findings show that 39 percent of new solar capacity came from utilities owning or contracting for solar power. Large solar projects, greater than 10 megawatts each, represent the bulk of this capacity.
The two regions of the greatest growth were the Southwest and the east. The Top 10 utilities, according to SEPA's annual Utility Solar Rankings survey, added more than 1,000 megawatts of solar power in 2011. Overall, 240 utilities added solar capacity in 2011 for a total of 1,500 megawatts. The installed capacity represented a mix of large utilities, rural co-ops and consumer installed systems. This is equivalent to six new natural gas power plants.
"This is a marked shift from a few years ago, when customer-owned, net-metered systems dominated installed solar generation," said Hamm. "Today, utilities are taking a greater role in the expansion of solar power in the United States."
Pacific Gas & Electric held the top spot for the 4th straight year. Public Service Electric & Gas Co. based in New Jersey was also in the top 10 along with Southwestern Public Service based in New Mexico. The full report will be available in May 2012.