The U.S. Environmental Protection Agency's Science Advisory Board (SAB) heard testimony Thursday from ethanol organizations challenging a recent report on the climate impacts of corn ethanol and the Renewable Fuel Standard (RFS). The workgroup draft commentary was sent to EPA Administrator Michael Regan regarding the RFS "Set" Rule.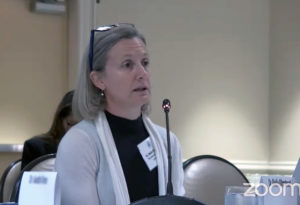 Dr. Sheila Olmstead, University of Texas at Austin Professor of Public Affairs, chaired the working group that drafted the commentary and she summarized their findings. "The RFS requires that qualifying fuels have life cycle GHG emissions no greater than 80 percent of those of gasoline and diesel," said Olmstead. "About one third of the estimates cited for corn ethanol would suggest this renewable fuel is unlikely to meet the 80 percent threshold…this is a good deal more uncertainty than we see for the other biofuels reviewed." Olmstead added that much of the variations regarding corn ethanol's climate benefits relative to gasoline and diesel has to do with its "impacts on land-use change."
Listen to Olmstead's summary remarks here:
Dr. Sheila Olmstead remarks 3:19
Renewable Fuels Association President and CEO Geoff Cooper urged the SAB to review EPA's own analysis showing a significant reduction in cropland since the RFS was enacted and Argonne National Laboratory's extensive research demonstrating ethanol's significant carbon savings.
"We adamantly disagree with the SAB's assertion that 'the best available science' suggests there are 'minimal climate benefits' associated with using corn ethanol in place of gasoline," Cooper said. "Indeed, the best available science shows just the opposite. Extensive research conducted by government laboratories, major universities, state and federal agencies, NGOs, and private lifecycle analysis experts all demonstrates that corn ethanol is 40-50 percent less carbon intensive than petroleum on a full lifecycle basis—including emissions from hypothetical land use change scenarios."
Listen to Cooper's comments here:
RFA CEO Geoff Cooper remarks 4:25
American Coalition for Ethanol (ACE) CEO Brian Jennings refutes the "outrageous claim" that corn starch ethanol may not meet the necessary scientific requirement of having no more than 80 percent of the lifecycle GHG emissions of gasoline. "There is no fact-based debate regarding the lifecycle GHG emissions of corn starch ethanol compared to gasoline," Jennings stated in ACE's response. "To the degree debate exists at all, it is not vigorous, unless one takes into consideration the vigor of misinformation campaigns orchestrated by various groups who are self-interested in their opposition to ethanol."
Jennings also noted the SAB makes no mention of the GREET model but makes multiple references to discredited studies by Tyler Lark et al., with land use change (LUC) at the center of Lark's attacks on corn ethanol. "While the Lark paper received outsized attention from the RFS workgroup letter, his biased methodology led to a LUC "result" which is far outside GREET CCLUB [Carbon Calculator for Land Use and Land Management Change from Biofuels production] results and other comprehensive and authoritative research done on this topic," Jennings' comments state.
National Corn Growers Association (NCGA) CEO Neil Caskey also testified to the board, noting that the research shows unequivocally that ethanol is important to addressing climate change. "There are no shortage of studies on the environmental benefits of corn ethanol," Caskey said. "The Department of Energy's Argonne National Laboratory, for example, has conducted extensive research on the matter and concluded that corn ethanol has reduced GHG emissions in the U.S. by 544 million metric tons from 2005- 2019 and that the feedstock's carbon intensity is 44 percent lower than that of petroleum gasoline."
Caskey also refuted the idea that farmers are growing more corn for ethanol. "American farmers planted an estimated 94.1 million acres of corn in 2023, which falls short of the more than 100 million acres corn farmers planted a century ago," Caskey noted. "In the past decade, U.S. corn production has been over six times the production of the 1930s with fewer corn acres."