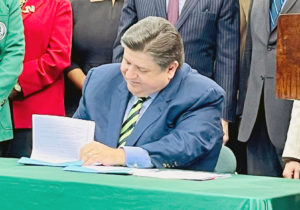 Illinois Governor J.B. Pritzker this week signed into law a bill that incentivizes increasing blends of biodiesel by extending the current B10 sales tax exemption until 2023 and then increasing the biodiesel blend level subject to the tax exemption to B13 in 2024, B15 in 2025 and B19 in 2026.
The legislation was spearheaded and guided through the legislative process by the Illinois Soybean Association (ISA) with support from Clean Fuels Alliance America and several of its member companies, including REG and ADM. Clean Fuels CEO Donnell Rehagen applauded the effort and the collaborative nature of the work by those involved.
"This law continues to build on the biodiesel leadership that Illinois, through ISA, has demonstrated in the past," Rehagen said. "This innovative tax exemption program in Illinois, which has been in place since 2003, has drawn hundreds of millions of gallons of biodiesel into the state."
"The successful passage of our biodiesel legislation is a proud accomplishment for the Illinois Soybean Growers (ISG) and the 43,000 soybean producers in our state," said Illinois Soybean Association Chairman, Steve Pitstick.
Illinois is currently fourth in biodiesel production and third in consumption with 160 million gallons consumed annually. Efforts to pass this legislation were aided by the Trinity Health Benefits Study that included the city of Chicago which found that switching to B100 would decrease diesel particular matter-related cancer risks by up to nearly 1,600 cases and result in over 31,000 fewer or lessened asthma attacks per year and save over $677 million per year in avoided health care costs.