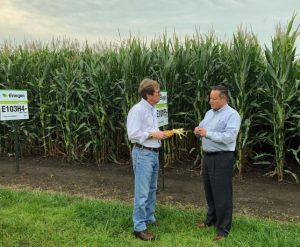 Republican Congressman Jason Lewis of Minnesota recently toured the Syngenta Seeds facility and participated in a discussion on the future of biofuels.
Rep. Lewis toured the Syngenta Seeds Stanton, Minnesota, R&D facility and North America Seedcare Institute. "During my visit I also had the chance to discuss a variety of the business' initiatives, including Syngenta's work to partner with Randolph's Agriculture Education classroom to help students learn more about the agricultural trade," said Lewis.
Established in 1971, the Syngenta Seeds Stanton R&D facility is home to a biofuels lab that helps ethanol plants adopt Enogen® corn enzyme technology, as well as plant breeding research for Enogen corn hybrids. "Syngenta is committed to the success of the U.S. ethanol industry and to helping ethanol plants adopt the best enzyme strategy," said Jeff Oestmann, head, Biofuels Operations – Enogen at Syngenta. "We are proud to have made a significant investment to bring this game-changing technology to market."
Enogen corn is an in-seed innovation available exclusively from Syngenta and features the first biotech corn output trait designed specifically to enhance ethanol production.