Sugarcane producer ASSOBARI (Associação dos Fornecedores de Cana da Região de Bariri) has earned the Roundtable on Sustainable Biomaterials (RSB) certification – the first sugarcane producer in Brazil to do so. The certification is for the production of sugarcane specifically for 62 farmers and nearly 1,800 hectares of sugarcane plantations.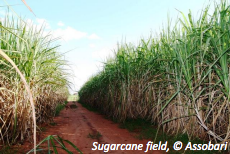 "RSB certification is the recognition that farmers in the Bariri region produce sugarcane in a sustainable manner, in accordance with global standards," said Acácio Masson Filho, Assobari's President. "RSB is an important organization to help us access the market for multi-products from sugar cane. Through RSB certification, Assobari farmers were able to implement tools to assess their potential environmental and social impacts and to carry out stakeholder consultations. The certification process also helped Assobari prepare internal procedures for chain of custody and learn how sugar cane producers can be linked to the biomaterials market."
According to RSB, its certification is recognized by NGOs as the "most comprehensive and ambitious" biomaterials sustainability certification program in the world.
Rolf Hogan, RSB's Executive Director, added, "RSB allows farmers and producers associations to earn their own certificates and be recognized as sustainable producers, and to be linked to sustainable supply chains which is key for many farmers. Also, sugar cane is one of the most important biofuel and biomaterial feedstocks for Brazil, so it is especially exciting to now have Assobari providing RSB certified materials for the industry. This movement forward indicates that RSB standards are applicable to the context of sugar cane in the region and provides a framework to implement sustainable practices by farmers associations."
This certification was made possible by the Boeing Corporate Citizenship Program.