The second annual survey on electric vehicles (EVs) has found that consumer interest in purchasing EVs, led by young adults, has increased over the past year from 31 percent in 2015 to 36 percent in 2016 while 50 percent of young adults (18-34) saying they would consider purchasing. The survey found that the more consumers know about EVs, the greater their interest in purchasing.
Commissioned by the Consumer Federation of America (CFA), the survey also found that more choices are hitting the market and EVs are beginning more cost competitive with gas powered vehicles. In terms of sales, EVs have outpaced hybrids in their first years on the market with 2016 EV sales set to beat 2015.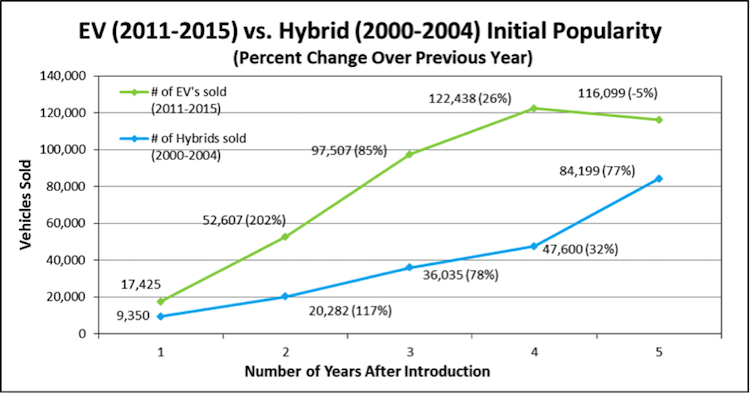 "Consumer interest in buying electric vehicles is growing at the same time these vehicles are becoming more available and more attractive," said Jack Gillis, CFA Director of Public Affairs and author of The Car Book. "It does not surprise us that electric vehicle sales have grown more rapidly in their first four years than did those of hybrid vehicles."
The survey also asked consumers, "The next time you buy or lease a car, would you consider an electric vehicle if it costs the same as a gas-powered car, has lower operating and maintenance costs, has a 200 mile range between charges, and can recharge in less than an hour?" In response to this question, 57 percent said they would be interested in purchasing this EV. For those who say they know a lot about EVs, the figure was 62 percent. And for young adults, the figure was 70 percent.
"As the younger buyers enter the market, more attractive EVs are made available, and consumers learn more about these vehicles, interest in purchasing them is likely to grow significantly," said Gillis. He added that CFA has updated its EV guide, Car Book's Snapshot Guide to Electric Vehicles, in an effort to improve consumer understanding of EVs.