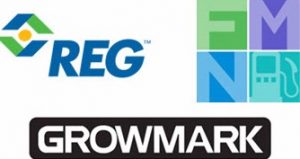 Fuel Marketer News and REG are hosting a webinar on September 22, 2016 at 1:30 CDT entitled, "Growing Your Business with Biodiesel Blended Fuel." The webinar will focus on how to grow your business with biodiesel with a case study from Growmark on how they use biodiesel blended fuel to drive margin for their fuel business.
Speakers include REG's Executive Director of Sales & Marketing Jon Scharing. He will offer an update on biodiesel demand in the coming years and how the RVO requirements and sustainability movement will impact demand. He will also discuss the implications this may have on travel centers. Scharing will be joined by Scott Long, manager of marketing and business development for Growmark. Long will discuss how biodiesel blended fuel offers fuel marketers opportunities to enhance their bottom line and expand their product offering. He will talk about the pros and cons to integrating biodiesel into their operation, how they market biodiesel to customers, issues regarding cold weather use and how biodiesel is helping grow their business.
All registrants will receive a free copy of the "Feedstock Flexibility – The Key to Delivering Reliable Biodiesel" white paper. Click here for this free webinar.