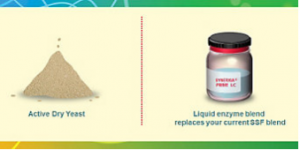 Heading in to this year's Fuel Ethanol Workshop (FEW), DuPont Industrial Biosciences has launched the SYNERXIA® Fermentation System to assist ethanol producers improve their yields by up to 2 percent while at the same time lowering total sugar levels at drop by up to 25 percent.
"We believe that the best technology delivers performance and is easy to use," said Troy Wilson, global business leader, Grain Processing. "The SYNERXIA Fermentation System launched today is designed to do just that – deliver better performance and take the guesswork out of dosing glucoamylase with bioengineered yeast."
DuPont says the system includes SYNERXIA® PRIME ADYT, a bioengineered yeast paired with the world's only commercial dry trehalase. Compared to cream yeast, DuPont says its active dry yeast requires no special storage or handling. The system also includes, says DuPont, SYNERXIA® PRIME LC, a new glucoamylase blend that delivers three times the debranching activity of conventional glucoamylase. The glucoamylase included in the SYNERXIA Fermentation System liberates more glucose for the yeast to ferment, improving ethanol yield. Additional benefits include 20-25 percent lower sugar levels at drop and full end-to-end onsite technical support.
FEW Attendees will be able to learn more about the technology during a presentation by Vivek Sharma, one of the technology developers, on the FEW Innovation Stage Tuesday, June, 21 at 2:40 pm CT.