Hundreds of biofuel supports were in Kansas City yesterday participating in the EPA's hearing on the proposed rules for 2017 and 2018 under the Renewable Fuel Standard (RFS). [View photos from the EPA hearing here.] Yet not all comments were positive as two representatives from the American Council for Capital Formation (ACCF) called for the RFS to be overhauled. In tandem with the negative testimony, Americans United for Change (AUFC) released a new report, "ACCF: Big Oil's Useful Tool," as a means to expose ACCF's financial ties to Big Oil as the group becomes more vocal about its criticism of the RFS.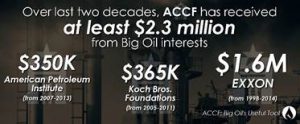 According to AUFC, the two presenters, Christopher Tucker, senior managing director, FTI Consulting, and Matt Dempsey, managing director for FTI Consulting, work for a consulting firm that recently led an aggressive misinformation campaign to discredit environmental groups that outed Exxon Mobil's decades of climate denial.
Brad Woodhouse, President, Americans United for Change said of the critical testimony from two semi-secret Big Oil flacks, "We do hope ACCF's chosen surrogates will reveal their close financial ties to Big Oil and not present themselves as objective critics of the RFS while testifying before the EPA. It's important that the EPA be fully aware of the context of ACCF's testimony as they have taken over $2 million in Big Oil money and push policies intended to protect the oil industry's profits at the expense of the environment and consumers."
Yet AUFC was not the only organization to release a study this week tied to the EPA's RFS hearing. ACCF also released a report from University of Tennessee professor Dr. Daniel De La Torre Ugarte, entitled, "10 Year Review of Renewable Fuel Standard Impacts to the Environment, The Economy, and Advanced Biofuels Development: An update," in which he outlines fundamental flaws of the RFS.
Bob Dinneen, president and CEO of the Renewable Fuels Association (RFA), testified during the EPA hearing and also participated in a press conference hosted by Fuels America. He said in response to the ACCF study, "This study is nothing more than the same old recycled talking points from ACCF and its Big Oil buddies. Corn ethanol lowers greenhouse gas emissions by 34%, according to DOE's GREET model. Meantime, the use of ethanol in gasoline in 2015 reduced carbon dioxide-equivalent greenhouse gas emissions from transportation by 41.2 million metric tons. The renewable fuel standard (RFS) has been an unmitigated success, helping to drive down gasoline prices, decrease U.S. reliance on oil imports and increase domestic biofuel production, while providing the lowest cost, cleanest-burning, highest octane additive available to refiners."
Dinneen added, "But the truth hurts Big Oil, which continues to desperately try to cling to its incumbent marketshare and more than 100-year-old subsidies. They can't hit back at the truth, so they resort to obfuscation in the hopes that people won't notice."
The comment period for the 2017 & 2018 proposed RFS rules ends July 11, 2016. Those interested in submitting comments can get more information here.
Coverage of EPA RFS Hearing made possible by