The.U.S. has become a #MillionSolarStrong. According to a new report from the George Washington Solar Institute the solar industry has installed more than a million solar projects and is on an accelerated path toward 2 million. In tandem with the report, the solar industry has launched a #MillionSolarStrong and recognizes rooftop and utility-scale reports alike.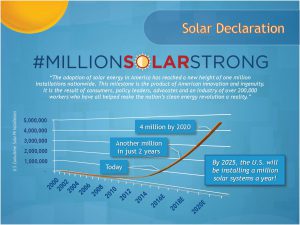 "The idea that we are celebrating a million solar installations in this country is remarkable, given we had just a couple thousand when I started here a dozen years ago," said Rhone Resch, president and CEO of the Solar Energy Industries Association (SEIA). "This accomplishment is made all the more stunning with the projections indicating we will hit 2 million installations before the end of 2018. Our meteoric growth is driven by the fact that solar is one of the lowest cost options for electricity and it has been embraced by people who care about the environment and want to choose where their energy is coming from."
Key points from the George Washington Solar Institute report are that:
Installation costs for solar have dropped more than 70 percent in the last decade;
Solar jobs have grown more than 123 percent in the last five years, making solar one of the bright spots in the economy; and
The million installations have cut enough carbon to equal all of Oregon's emissions.
The #MillionSolarStrong social media campaign features photos and videos from people throughout the state who are involved and support solar power.