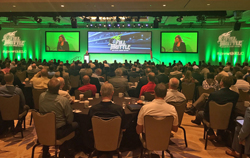 Growth Energy is holding its annual Executive Leadership Conference this week in Orlando, FL. Most of the members got the opportunity to attend the Daytona 500 race this past weekend. Now it's time for business.
The emcee for the event is Kim Coon, former Miss Sprint Cup and announcer for Motor Racing Network. On the stage this morning will be Jeff Broin, Chairman for Growth Energy and Tom Buis, CEO. Keynote speakers include Chuck Todd, MSNBC and Brent Dewar, NASCAR. There are several panel discussions and a membership forum before the conference concludes on Tuesday.
I will be speaking with Jeff Broin and Tom Buis to get their outlook on the industry and for the future of Growth Energy. More to come.