The Top 100 People in Advanced Bioeconomy for 2016 has been released by Biofuels Digest. The top spot went to Tom Vilsack, USDA Ag Secretary. Other notables on the list included #3 Daniel Oh with REG; #10 Brent Erickson with BIO; #12 Terry Branstad, Iowa Governor; #21 Bob Dinneen with RFA; #22 Brooke Coleman with ABBC; #26 Joe Jobe with NBB; and #37 Ernest Moniz with the EPA.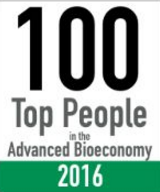 Coming in at #93 was Joanne Ivancic, executive director of Advanced Biofuels USA who recently commented on her inclusion. "Recognition by the readers and editors of Biofuels Digest, "the world's most-widely read biofuels daily" motivates all of us who volunteer at Advanced Biofuels USA to continue our efforts to transition the world to a sustainable, renewable future," she said. "It acknowledges the work done by all the volunteers who comprise the organization and without whom nothing would be achieved. My thanks to all who work so hard to make this possible and to those who voted to give the organization this honor."
Advanced Biofuels USA is a technology neutral and feedstock agnostic nonprofit educational organization that advocates for the adoption of advanced biofuels as an energy security, economic development, military flexibility and climate change mitigation solution.