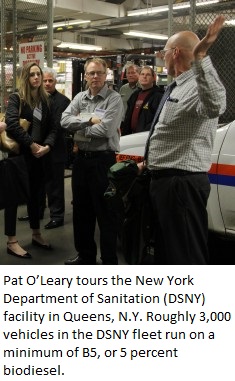 A group of Minnesota soybean farmers recently made the trip to New York City to see how one of their products, biodiesel, is making a big splash in the Big Apple. This article from the Minnesota Soybean Research & Promotion Council says the group was able to see several success stories of the green fuel being used in the big city, such as the New York Department of Sanitation that runs about 3,000 vehicles on a minimum of B5, or 5 percent biodiesel, and how bioheat, a mix of biodiesel with heating oil, is keeping New Yorkers warm at home.
The New York Department of Sanitation (DSNY) is no stranger to using biodiesel in its fleet. City vehicles are required to run a blend of 5 percent biodiesel, or B5. But DSNY Deputy Commissioner Rocky DiRico said his department has run blends of B20 for years. "We've had our obstacles along the way while pursing green," he said. "We started using biodiesel eight or 10 years ago, and we've been pushing the move to B20 for a long time." DSNY has nearly 6,000 vehicles in its fleet, and while not all of them are diesel engines, roughly 3,000 run on biodiesel. "I don't know if there is a more simpler, more economically feasible way to cut our fossil fuels down," he said.
Spiro Kattan, DSNY Supervisor of Mechanics of Clean Fuels & Technologies Division agrees. "We went citywide with B5 In 2007, and today, from April to November, we are a B20 fleet and from December to March we are a B5 fleet," he said. "We've displaced over 4 million gallons of fossil-based petro fuels, something we are very proud of, just by using biodiesel the past several years."
Minnesota Soybean Research & Promotion Council (MSR&PC) Vice Chairman Craig Bangasser attended the National Biodiesel Board Bioheat Tour to New York City to learn about NRDC and DSNY, as well as other agencies using biodiesel and Bioheat. He came away impressed. Bangasser says it's up to the Council to figure out how Minnesota can play a role in the growing biodiesel market in NYC.