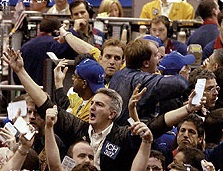 Futures prices for oilseeds, such as soybeans, as well as the price of corn rose after the federal government's announcement on the amount of biodiesel and ethanol to be blended into the nation's fuel supply. This report from Nasdaq says soybean prices rose to a five-week high, while corn prices also saw some gains.
Buying in the soybean-oil market also propped up oilseeds, analysts said. Soybean oil prices rose 2.3% on Tuesday, supported in part by the release Monday of the U.S. Environmental Protection Agency's annual targets for how much biofuel must be mixed into the nation's fuel supply. The federal agency raised its volume requirements, suggesting more soyoil will be needed to meet biodiesel goals.
The final EPA mandates "indicate that a lot of soybean oil will be used to make biodiesel next year, so people are all bulled up on that," said Terry Reilly, an analyst with brokerage Futures International LLC in Chicago.
Soybean futures for January delivery rose 8 1/4 cents, or 0.9%, to $8.89 1/4 a bushel at the Chicago Board of Trade, the highest closing price since Oct. 27.
Corn prices rose to a one-week high, boosted by investor short covering, which comes after prices tumbled in November. Corn prices also were supported by EPA's ruling, which increased blending requirements for ethanol and prompted hopes for increased corn demand, the main feedstock in the biofuel.
"Corn traders figured the EPA announcement was friendly," said Mr. Reilly.