The California wine industry is seeing growing concern of ethanol vapor released into the atmosphere from large fermentation tanks, an issue that can lead to the formation of smog. Fermentation is a necessary step in the production of wine; therefore to address the concern, EcoPAS invented the Passive Alcohol System (PAS-100) that captures the alcohol vapor that escapes from wine tank vents during fermentation.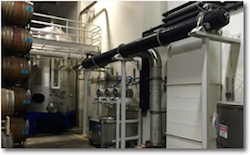 To test the technology, EcoPAS partnered with Greenbelt Resources Corporation who fabricated the first commercial scale PAS-100 and its complementary manifold system. The system was installed in a southern Californian wine services facility and used for the first time during the recently completed 2015 crush. The company has announced the fabricated system has exceeded performance expectations.
"Leveraging the manufacturing expertise of the Greenbelt team enables our own team to focus on continued performance improvements," said Patrick Thompson, CEO of EcoPAS. "Now that the full-scale PAS system has been achieved in practice, we expect to see an increase in demand for Greenbelt fabrication of additional PAS systems."
According to EcoPAS, both its own engineers as well as winemakers, of whom are EcoPAS target customers and end users, were pleased with all aspects of the operation. Utilizing the PAS-100 manufactured by Greenbelt Resources for EcoPAS, the winery was able to claim credit for enough captured volatile organic compounds (VOCs) to stay below mandated daily emissions rates. Thus, says EcoPAS, deployment of the PAS is not only good for the environment, it's good business.
Darren Eng, CEO of Greenbelt Resources added, "The PAS is an impressive invention requiring no active energy input. "We look forward to growing our two complimentary companies side-by-side. Once the market adoption of the PAS hits a critical mass, the aggregated by-product of local PAS's will be an excellent feedstock for the typical modular distillation-and-dehydration systems for which Greenbelt Resources is known."