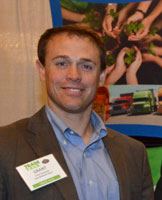 Iowa Biodiesel Board (IBB) members joined their National Biodiesel Board colleagues in lobbying lawmakers to renew and restructure the federal $1-per-gallon credit for biodiesel and renewable diesel. IBB pointed to Iowa Sen. Chuck Grassley's proposal that would correct a loophole in the existing program and save U.S. taxpayers $90 million.
"Nowhere is the success of the tax credit more evident than in Iowa. Our state's 13 plants produced more than a quarter of a billion gallons of biodiesel last year, supporting jobs and economic development while replacing foreign oil and diversifying our fuel supply. The federal tax incentive has played a key role in enabling those plants to stay operating and profitable, benefiting all levels of our economy," said Grant Kimberley, executive director of the Iowa Biodiesel Board.
But Kimberley isn't just looking at the benefits for Iowa. During an interview with the recent National Association of Farm Broadcasting meeting in Kansas City, Missouri, he said that Iowa biodiesel can be a real help to California's Low Carbon Fuel Standard (LCFS).
"California … wants to have all of their transportation fuels fit under the [LCFS], where it reduces greenhouse gas emissions and is better for the environment," said Kimberley. "Renewable fuels, including biodiesel, can play a key role in that."
He said biodiesel producers have had to educate California officials just how good biodiesel can be. Initially, California scored biodiesel just above conventional diesel. But education efforts improved that score.
"Now they've moved that score higher, so now it's up to 50-80 percent better than petroleum-based diesel, which means biodiesel can play a really strong role in the [LCFS]. It could be up to 600 million gallons of biodiesel per year that could be utilized in California," said Kimberley.
He also pointed out that since California doesn't produce much of the green fuel, it opens up many possibilities for Midwest producers.
Listen to all of Cindy's conversation with Kimberley here: Grant Kimberley, executive director of the Iowa Biodiesel Board