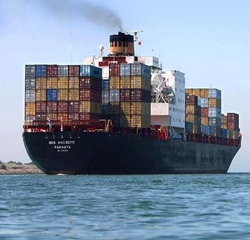 U.S. ethanol exports rebounded in September after a drop in August, with shipments expanding 20% to 60.3 million gallons (mg), according to Renewable Fuels Association (RFA) analysis of government data released this week.
RFA Research Analyst Ann Lewis reports that Canada remained the top market for U.S. ethanol, with 44% of expors. "Meanwhile, India imported 14.3 mg (24%), its highest level of imports since February," said Lewis. Other top importers included South Korea (8.5 mg), Peru (4.3 mg), Mexico (2.7 mg) and the Philippines (2.7 mg). Tunisia backed away from purchases in September after accounting for a quarter of the market last month, while exports to Brazil were close to zero. Total year-to-date U.S. ethanol exports are almost 625 million gallons – which is up six percent from this time last year and already greater than total exports in 2013.
The California LCFS "ethanol shuffle" reappeared in September, as U.S. imports hit a 16-month high. The United States imported 24.9 mg of ethanol, almost 60% higher than August and the largest volume imported since May 2014. All of the 24.2 mg of undenatured ethanol imports originated from Brazil. The U.S. also imported 689,365 gallons of denatured ethanol in September, with 96% shipped from Spain and the remainder coming from South Africa and Canada. Year-to-date U.S. imports of ethanol now total 57.7 mg–quickly catching up to last year's cumulative volume at this point. In September, the United States realized its 25th straight month as a net exporter, albeit at a significantly reduced margin.
Meanwhile, exports of U.S. distillers dried grains with solubles (DDGS) were lower in September with decreasing shipments to China, which still remains by far the number one destination for DDGS exports. Four countries account for most of the 1,108,582 metric tons of U.S. DDGS exports: China (484,535 mt), Mexico (140,338 mt), Viet Nam (101,335 mt) and South Korea (96,503 mt). China had been importing about 750,000 mt per month and making up about 64% of our DDGS export market. However, DDGS exports to China dropped 30% in August and another 26% in September, settling at a volume equal to just half of the June record high.