Massachuesetts has edged out California as the most energy efficient state in the U.S. according to the ninth annual State Energy Efficiency Scorecard. Several states continue to improve their scores including California, Maryland, Illinois, Texas and Washington D.C. The report is published by the American Council for an Energy Efficient Economy (ACEEE) with support from the U.S. Department of Energy (DOE).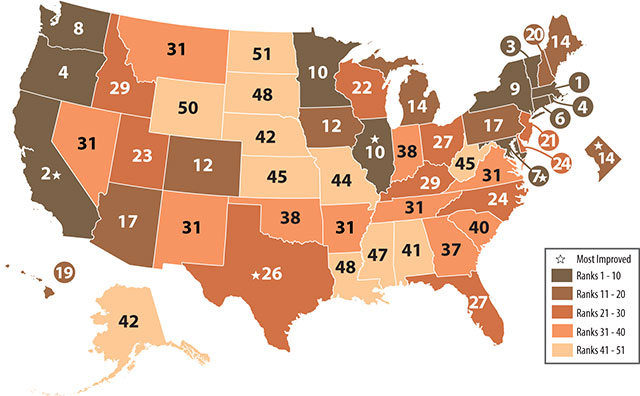 ACEEE Executive Director Steve Nadel said of this year's findings, "As states move to frame their plans under the federal Clean Power Plan this year marks a tipping point for energy efficiency. State policies are increasingly encouraging utilities to invest in cost-effective efficiency, prompting them to adopt new business models that align their interests with those of customers and policymakers. We can see this taking hold in the 20 states that improved their Scorecard rank in 2015. Utilities across the United States invested more than $7 billion in energy efficiency over the past year alone."
Some key finding of the 2015 State Scorecard include:
The top 10 states for energy efficiency are Massachusetts, California, Vermont, Rhode Island, Oregon, Connecticut, Maryland, Washington, and New York, with Minnesota and Illinois tied for 10th place. Massachusetts retains the top spot for the fifth consecutive year based on a strong commitment to energy efficiency under its Green Communities Act.
A solid 20 states rose in the State Scorecard rankings. California, a leading state, is also one of the most improved states this year. Maryland, Illinois, the District of Columbia, and Texas also deserve recognition for improvement over the past year.
Overall, 16 states fell in the rankings this year, due to such factors as policy or program rollbacks or failure to keep pace as other states expanded efficiency efforts. The five states most in need of improvement (starting with dead last) are: North Dakota, Wyoming, South Dakota, Louisiana, and Mississippi, although new efficiency programs in Louisiana and Mississippi mean these states may not be in the bottom for much longer. While not in the bottom five states, New Mexico dropped the farthest in 2015, losing four points and falling six positions from 25th to 31st in the rankings. This is due in part to the state's failure to adopt energy building codes beyond the 2009 requirements.
Another key finding: Savings from electricity efficiency programs in 2014 totaled approximately 25.7 million megawatt-hours (MWh), a 5.8% increase over last year. These savings are equivalent to about 0.7% of total retail electricity sales across the nation in 2014. Gas savings for 2014 were reported at 374 million therms (MMTherms), a 35% increase over 2013. Click here to read the full report.