The Renewable Fuels Association (RFA) announced the election of officers for the 2016 Board of Directors at the organization's annual membership meeting held this week in Omaha, Nebraska.
Randall Doyal, General Manager and CEO at Al-Corn Clean Fuel, has been re-elected to serve as Chairman of the Board of Directors for another year. Doyal's ethanol facility, which is located in Claremont, Minnesota, produces 50 million gallons of ethanol annually. His experience in the ethanol industry began in 1982 at Mountain Development Company. In addition to Al-Corn Clean Fuel, Doyal serves as Chairman of the Board at Guardian Energy, LLC and the Renewable Products Marketing Group. He previously served as Vice-Chairman and Treasurer of the RFA.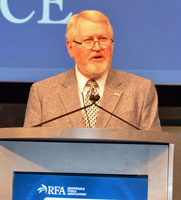 "I am truly humbled that my peers have, once again, selected me to head the Renewable Fuels Association. The RFA is a strong and vocal advocate for the ethanol industry, and its technical knowledge, political influence, and market acumen are unmatched," said Doyal. "I look forward to another year of working side by side with RFA's highly professional staff and other producers to protect the Renewable Fuel Standard and expand market access at home and abroad."
The RFA membership also elected Mick Henderson, General Manager of Commonwealth Energy in Hopkinsville, Kentucky, as vice chairman. And Jim Seurer, CFO of Glacial Lakes Energy in Watertown, South Dakota was elected treasurer for the organization. Bob Dinneen was also re-elected as president of RFA.