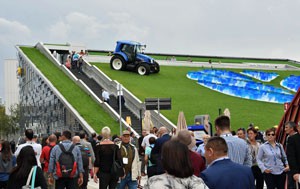 The centerpiece outside the New Holland Agriculture Sustainable Farm Pavilion at Expo Milano is a prototype methane-powered tractor that the company is developing to help farmers run their equipment on self-generated energy.
"We are a clean energy leader company," said New Holland Agriculture Brand president Carlo Lambro. "Methane is really close to zero emission."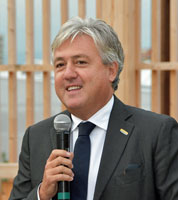 In addition, Lambro says methane is very economical. "Methane is one of the cheapest fuels that can be found," he told a group of agricultural bloggers from around the globe during an event at Expo Milano last week.
The prototype tractor on display at Expo is based on a New Holland T6.175 standard tractor and has a total capacity of 300 litres (52kg) compressed methane, enough to operate the tractor for half a day. The biomethane powered tractor can result in fuel savings of 20-40% and has 80% lower emissions than a standard diesel tractor.
Lambro says New Holland is also looking at other alternative fuels. "In North America, we're working more on the ethanol side as a potential fuel," Lambro told a group of agricultural bloggers from around the globe during an event at Expo Milano last week. "Methane in Europe, ethanol in the U.S., ethanol from sugarcane in Brazil."
Listen to Carlo's discussion with the bloggers here: Carlo Lambro, New Holland Brand President