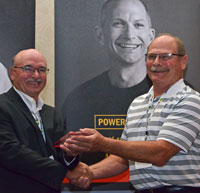 American Coalition for Ethanol (ACE) president Ron Alverson of Dakota Energy surprised his friend Steve Roe with Little Sioux Corn Processors in Marcus, Iowa with this year's President's Award. This honor is awarded to individuals or organizations who display principled dedication and support to ACE and to the U.S. ethanol industry.
Little Sioux is a grassroots ethanol plant started in 2003 with local community investors. The company has grown to include over 800 investors and is currently undertaking its third expansion which will bring its capacity to over 135 million gallons per year.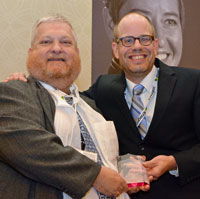 ACE Director of Communications Chuck Beck awarded the Excellence in Media award this year to Tom Riter of WNAX in Yankton, SD.
Riter is a veteran farm broadcaster and a native of Rock Rapids, Iowa. He is a regular contributor to the National Association of Farm Broadcasting news service on issues pertaining to the ethanol industry.