During the Bioheat and Biodiesel Forum in Mankato, Minnesota, attendees learned about the benefits and opportunities of Bioheat, and also heard an update on the biodiesel industry. Bioheat is heating oil that is blended with biodiesel to reduce its carbon emissions. Bioheat has been on the rise with state legislation that has passed in many northeastern states in an attempt to reduce emissions from all forms of energy. The result of great Bioheat demand? Greater biodiesel demand.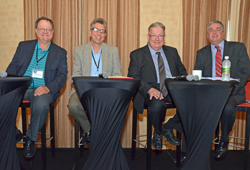 The second portion of the Forum kicked off with a call-in from Larry Schafer with the National Biodiesel Board (NBB) who gave a state and federal policy update that included a behind-the-scenes look at the political winds in Washington, D.C. He also discussed the fate of the biodiesel tax credit and reviewed policy initiatives in Minnesota.
Listen to Larry Schafer's remarks here: Larry Schafer, NBB
Doug Root with the Ag Utilization Research Institute and Steve Howell with MARCIV Consulting took the stage next to discuss how the evolution of the industry paired with emerging technologies and the Renewable Fuel Standard (RFS) has spurred the biodiesel industry to improve its optimization strategies. Remaining competitive, said Root and Howell, is an integral aspect of keeping domestic biodiesel production competitive.
Listen to Doug Roots remarks here: Doug Root, Ag Utilization Research Institute
Listen to Steve Howell's remarks here: Steve Howell, MARCIV Consulting
The session was rounded out by Gary Koch with Gislason & Hunter LLP who discussed what's happening in the marketplace when it comes to investing in biodiesel production ranging from venture capital markets to private companies.
Listen to Gary Koch's remarks here: Gary Koch, Gislason & Hunter