The Mission Zero Corridor Project in Troup County West Georgia is trying to build a 'green highway'. The travel corridor would, according to Innovia Technology, who has been commissioned for the project, rethink the purpose and function of infrastructure to generate social, environmental and economic value.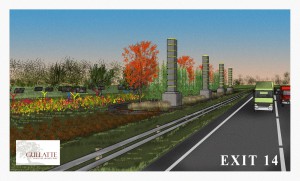 Some of the technologies being looked at for the project include algae biodiesel gas stations, smart solar-powered roads, moon-cycle adjusting lights, wildlife bridges, driverless cars, electric-car charging lanes and cultural greenways.
"Worldwide the highway infrastructure is continuously maintained, rebuilt and expanded at considerable economic and environmental cost. The Mission Zero Corridor Project is proposing an alternative future where highways have a positive impact on our communities. It's very exciting to be involved in making this vision a reality," said Alastair MacGregor, CEO of Innovia Technology, of the challenge ahead.
The late Ray C. Anderson, founder of Interface, Inc. developed the Mission Zero framework to eliminate Interface's environmental impact while maintaining productivity and still turning a profit. The aim was a promise to "eliminate any negative impacts the company may have on the environment by 2020" and the framework created a blueprint for business sustainability. As a memorial, the Ray C Anderson Foundation is using a 16 mile stretch of Interstate 85 as the living experiment of the "regenerative, restorative and sustainable highway".
To get the project started the Foundation and Interface funded a vision study through The Georgia Conservancy's Blueprints for Successful Communities program. Using Interface's Mission Zero framework as a roadmap, graduate students in the School of Architecture at the Georgia Institute of Technology, with studio instruction from a team of architects from Perkins+Will in Atlanta, explored how a highway could be a tool of change. The outcome was an inspirational report that identifies a broad range of potential technologies and opportunities. Innovia's role is to provide a creative exploration of new opportunities, evaluate the technologies for viability and scalability, and to propose a strategy to bring the vision to life.