President George Washington took the the Presidential Soapbox this morning on the first day of the Iowa State Fair where he stressed that America 'must put behind us matters that divide us and brace matters that bind us together'. Portrayed by Ron Carnegie, his rousing speech kicked off the Des Moines Register's Presidential Soapbox series. All presidential candidates but Hillary Clinton and Donald Trump are set to take the soapbox beginning today through Saturday August 22nd. However, there are unconfirmed rumors that the two will in fact be attending the Iowa State Fair (see schedule here).
Washington said there were several key areas that should be considered when choosing his replacement (aka candidate) including the nation must have a sacred regard for public justice and an elected representative should not being saying yes when he/she should be saying no. He noted that the young generation will soon be running this country, and America must make good on its promises.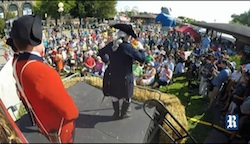 When asked if he supported one candidate, Washington replied, "I have no intention of speaking in favor of any candidate. Influence is not good government. The greatest requirement is the approbation of the people of our country. That's the candidate that should be elected president."
Another nifty nugget of advice: national credit must always be preserved. Avoid spending unnecessarily.
So which candidate(s) meet our nation's first president's merits? That's for Americans to decide. To stick with "fair" language, we'll be bringing you tasty tidbits from each candidates over the next 10 days. The Des Moines Register is livestreaming all candidates and you can access all their news coverage here.