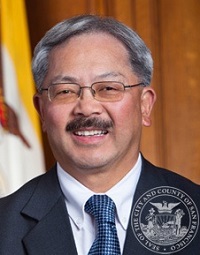 San Francisco is converting its city fleet to renewable diesel. This news release from Mayor Edwin Lee's office says the city expects great savings on harmful emissions as it phases out petroleum diesel.
"By changing our fleet's fuel from petroleum to renewable diesel, we're taking action that is good for the global climate, and at the same time promotes environmental justice in our community by leading to cleaner, healthier air for some of our most vulnerable neighborhoods," said Mayor Lee. "And, because of the State and Federal governments' incentives to producers to manufacture low carbon fuels, this switch can potentially reduce our City's fuel costs. The City of Saint Francis is answering the Pope's call for local action on global climate change."
Mayor Lee made the announcement in Vatican City at the Pontifical Academies of Sciences and Social Sciences' Modern Slavery & Climate Change: The Commitment of the Cities conference, joining Pope Francis, Governor Jerry Brown, representatives of the United Nations and mayors and local governors from around the world to drive awareness, dialogue and action at the local level on climate change and modern slavery – two pressing, interconnected issues highlighted in the Pope's encyclical, Laudato Si'.
"By switching to renewable diesel for the entire municipal fleet, the City is providing real solutions to climate change that helps San Francisco reach our ambitious goals for reducing greenhouse gas emissions and create a more sustainable future," said City Administrator Naomi Kelly.
San Francisco started on the path of transitioning away from petroleum diesel and using cleaner forms of diesel fuel a half-dozen years ago by transitioning to a blend of biodiesel. Currently, most of the municipal fleet uses B20, 20 percent biodiesel and 80 percent petroleum diesel.