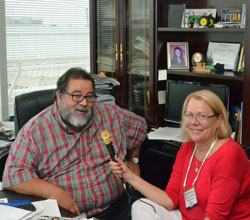 Domestic Fuel stopped by the Renewable Fuels Association (RFA) office in Washington DC Wednesday to visit with president and CEO Bob Dinneen and discuss the latest with the Renewable Fuels Standard (RFS) and expectations for next week's EPA hearing in Kansas City.
Following his appearance on a Fuels America press call, Dinneen addressed yet another bill introduced this week to repeal the RFS and renewed charges by RFS opponents that the law is increasing food prices.

Regarding the June 25 public hearing on EPA's proposed volume obligations under the RFS, Dinneen says the agency has already received about 250 requests to testify and he is encouraging everyone possible to turnout. "I want chaos, I want farmers that care about what this proposal would mean for their bottom line, I want consumers that care about the fact that gasoline prices will increase if this proposal is finalized, I want ethanol producers there, I want biodiesel producers there, I want anybody that cares about our nation's energy, economic and environmental future to show up in Kansas City and throw a hissy fit," said Dinneen.
Listen to or download the Ethanol Report here: Ethanol Report from Washington DC