U.S. Senators Tom Udall (D-NM) and friends, Edward Markey (D-MA), Martin Heinrich (D-NM), Michael Bennet (D-CO), Jeff Merkley (D-OR), Sheldon Whitehouse (D-RI) and Mazie K. Hirono (D-Hawaii) has introduced a national Renewable Electricity Standard (RES) they say will pump nearly $300 billion into the economy while combating climate change. The bill would require utilities to generate 30 percent of their electricity from renewable energy sources by 2030.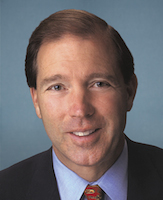 "A national Renewable Electricity Standard will help slow utility rate increases and boost private investment in states like New Mexico – all while combating climate change," said Udall, who helped pass RES legislation through the U.S. House of Representatives and has continued to champion the issue as senator. "Investing in homegrown clean energy jobs just makes sense, and that's why I'm continuing my fight for a national RES. More than half the states – including New Mexico – have widely successful RES policies, and it's time to go all in. I've long pushed for a 'do it all, do it right' energy policy, and a RES will help us get there."
If passed, the federal legislation would create the first national threshold for utilities to provide a certain percentage of their electricity from renewable resources, including wind, solar, biomass and others. It would set an 8 percent requirement by 2016, followed by gradual increases to meet the 30 percent by 2030 goal. More than half of the states already have renewable generation standards with specific timelines and target standards, and the legislation would not preempt stronger standards already implemented by states.
"Our record droughts, burning forests, dying fish, and melting icecaps all point to the urgency of taking on climate change," said Merkley. "The only answer is burning less fossil fuel and moving toward renewable energy. Senator Udall's bill would accelerate that transition and is a key to saving both our economy and our environment from the ravages of climate change."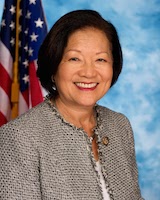 Earlier this month, Hawaii was the first state to pass 100 percent renewable electricity legislation. Hirono, who helped spearhead the bill in the state is now helping Udall and others in the contiguous 40 to also pass similar legislation although if this federal bill is passed utilities would only need to provide 30 percent renewable electricity by 2030 versus Hawaii's goal of 100 percent by 20145. Note that states with more demanding RES will remain in place.
"Since enacting a statewide goal in 2009 of generating 40 percent of Hawaii's electricity from renewable sources by 2030, Hawaii's renewable generation has doubled from 9.4 percent to over 18 percent. Last week the Hawaii State Legislature updated our state goal to seek 100 percent renewable electricity by 2045," Hirono said. "Setting a goal, and letting the private sector meet that goal, has helped to drive innovation and investment in clean energy in Hawaii and will do the same for states across the country."
"The bill that we're introducing creates a nationwide standard that would help to drive demand for clean energy solutions, attracting investment and providing much needed certainty for the renewable energy industry while decreasing dependency on fossil fuels," added Hirono. "In short, this legislation would set our nation on a path to diversifying our energy sources, increasing our energy security, and creating a more sustainable future."