During a presentation at Tesla Design Studios in Los Angeles the company unveiled a new Tesla battery that has home, commercial and utility-scale storage applications. College of Marin is the first community college to partner with Tesla to install the new battery storage products on campus.
The college received $5.3 million in government incentives to help cover the costs of site prep, installation of the lithium-ion battery pack, liquid thermal control system, and software that receives dispatch commands from a solar inverter. Concrete slabs will be installed behind the Student Services Building at the Kentfield Campus and near the Main Building at the Indian Valley Campus.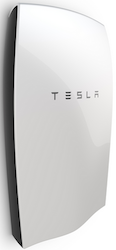 Vice President Greg Nelson expects installation to begin in mid-May and last until the end of June. Once the stationary batteries are operational, Nelson estimates the cost savings to be anywhere from $100,000-$150,000 annually for the College.
"Leveraging existing relationships made this new partnership possible. Through collaboration with our friends at Marin Clean Energy, we were able to meet the program qualifications and embark on this new venture with Tesla that has been nine months in the making," said Nelson. "This takes College of Marin to the next stage of energy conservation, moving the College forward as a leader in sustainability. I believe this program will grow, creating opportunities for other community colleges throughout the country."
"We are proud to partner with Tesla and others in this innovative pilot project," said Board of Trustees President Wanden Treanor. "College of Marin is honored to help prove the potential for this new energy source while at the same time generating considerable savings to the College's energy bill. It is another step toward realizing a promise we made to the residents of Marin."