According to Worldwatch Research Associate Mark Konold and Climate and Energy Intern Xiangyu Wu, double-digit growth continued in the global wind market in 2013. In the latest Vital Signs, the writers state that there are 318 GW of wind capacity online today with 35 GW added in 2013. However, the growth was a significant drop from the average growth rate over the last 10 years (21%). In addition, overall investment declined slightly from $80.9 billion in 2012 to $80.3 billion in 2013.
In 2013, offshore wind capacity continued to see growth as projects became larger and moved into deeper waters. Until recently, deep-water offshore wind has developed on foundations adapted from the oil and gas industry, but deeper waters and harsher weather have become formidable challenges requiring newly designed equipment. Shipbuilders are expanding to make larger vessels to transport bigger equipment and longer and larger subsea cables to more-distant offshore projects.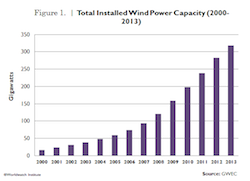 It's these trends, write the authors, that have kept prices high in recent years. As of early 2014, the levelized cost of energy (LCOE) for offshore wind power-which includes the cost of the plant's full operational and financial life-was up to nearly $240 per megawatt-hour (MWh). By comparison, the LCOE of onshore wind installations in various regions of the world is under $150 per MWh, having fallen about 15 percent between 2009 and early 2014.
According to the authors, onshore, wind-generated power is becoming more cost-competitive against new coal- or gas-fired plants, even without incentives and support schemes. Over the past few years, capital costs of wind power have decreased because of large technological advances such as larger machines with increased power yield, higher hub height, longer blades, and greater nameplate capacity (which indicates the maximum output of a wind turbine).
Tighter competition among manufacturers continues to drive down capital costs, and the positioning of the world's top manufacturers continues to shift. The top 10 turbine manufacturers captured nearly 70 percent of the global market in 2013, down from 77 percent the year before.
In addition, the writers found that in an effort to maintain profitability, manufacturers are trying new strategies, such as moving away from just manufacturing turbines. Some companies focus more on project operation and maintenance, which guarantees a steady business even during down seasons and can increase overall value in an increasingly competitive market. Some manufacturers are also turning to outsourcing and flexible manufacturing, which can lower overall costs and protect firms from exchange rate changes, customs duties, and logistical issues associated with shipping large turbines and parts.