The first offshore wind project proposed for federal waters off the West Coast has just taken a big step forward. Secretary of the Interior Sally Jewell joined by Governor John Kitzhaber and Bureau of Ocean Energy Management (BOEM) Director Tommy P. Beaudreau, announced that BOEM has given the green light for Principle Power, Inc. to submit a formal plan to build a 30 megawatt offshore wind pilot project using floating wind off the coast of Coos Bay, Oregon.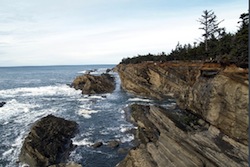 "Today's announcement is consistent with President Obama's commitment to take actions that will create jobs and develop clean, domestic energy that powers our economy," said Jewell. "This pioneering project would demonstrate floating wind turbine technology capable of tapping the rich wind energy resources in deep waters offshore Oregon. As we look to broaden our nation's energy portfolio, the innovative technology and its future application hold great promise along the West Coast and Hawaii."
According to the National Renewable Energy Laboratory, the West Coast holds an offshore wind capability of more than 800 gigwatts of wind energy potential. This is equal to more than three quarters of the country's entire power generation capacity. In addition, total U.S. deepwater wind energy resource potential is estimated to be nearly 2,000 gigawatts.
"Today marks a milestone in ocean renewable energy, and also the next big leap for cutting-edge innovation necessary to meet our energy and carbon reduction goals," said Governor Kitzhaber. "These critical partnerships with our federal, regional, tribal, and local partners are advancing an energy future that supports a healthy economy and good jobs while strengthening Oregon's legacy of environmental stewardship."
BOEM has issued two non-competitive leases (Cape Wind in Nantucket Sound and an area off Delaware) and three competitive leases (two offshore Massachusetts-Rhode Island and another offshore Virginia). The competitive lease sales generated about $5.4 million in high bids for about 277,550 acres on the U.S. Outer Continental Shelf. Additional competitive auctions for wind energy areas offshore Maryland, New Jersey and Massachusetts are expected in 2014.