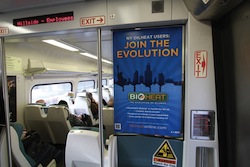 The growers of the most popular feedstock for biodiesel made the case for the green fuel to the largest market in the U.S. This story from the Grand Island (NE) Independent tells how members of the Nebraska Soybean Board and more than 90 other representatives from the United Soybean Board (USB), American Soybean Association (ASA), and nine other state soybean boards went to New York City to see how the metropolis is using biodiesel and Bioheat, heating oil mixed with biodiesel.
By 2015, all buildings in New York City that use heating oil will be required to use a B5 blend of Bioheat, meaning that it contains 5 percent pure biodiesel.
According to the Nebraska Soybean Board, New York City has led the way in embracing alternative fuels such as biodiesel and Bioheat. In 2007, Mayor Michael Bloomberg announced his Plan NYC, which brought 25 city agencies together to help tackle some of the toughest issues facing the city in the years to come. As a part of this visionary plan, Bloomberg called for a 30 percent reduction of greenhouse gas emissions by 2017.
Keith Kerman, the chief fleet officer and deputy commissioner for NYC's Department of Citywide Administrative Services, said biodiesel and Bioheat have played key roles in helping the city meet its GHG reduction goal.
"As of last year, we had reduced our emissions by 9.3 percent, and we fully expect that number to be over 20 percent after this year," Kerman said.
State soybean boards, including the one in Nebraska, have been big funders of biodiesel and Bioheat education and outreach to areas outside of the Midwest, especially in the metropolitan areas, such as New York City. Makes sense as the East Coast markets are a great place to make use of the green fuel when it might not be moving as well in the wintertime back where most of it is produced, the agricultural areas of the Midwest.