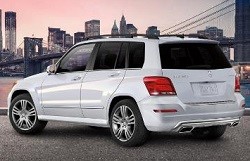 Biodiesel lovers might soon be singing a the line from the old Janis Joplin song, "Oh Lord, won't you buy me a Mercedes Benz?" The German car maker will once again offer its line of biodiesel-compatible vehicles. This news release from EINNews.com says that after several years of not selling its BlueTEC diesel engines, the clean burners are back.
Improving the design and returning stronger than ever, the Mercedes-Benz line of BlueTEC engines can now properly utilize B5 biofuel. Biodiesel-consuming engines are available on some of their most popular vehicles including the GLK, M, GL, and E-Class. Providing emission passing ratings and some of the highest fuel economy marks for their respective classes, the Mercedes-Benz BlueTEC engines are great options for drivers searching for an alternative to gas-powered vehicles.
The story goes on to point out that this is the latest development in Mercedes' long history of offering diesel-powered passenger vehicles, which most diesels are already compatible with biodiesel. The latest advances in the BlueTEC engine allow it to run both ultralow-sulfur fuel and B5 biodiesel.