There is a new multi-state cooperative agreement to put more than three million battery-electric vehicles (EV), plug-in hybrid-electric vehicles, and hydrogen fuel-cell-electric vehicles on U.S. roads. The Consumer Federation of America (CFA), joined representatives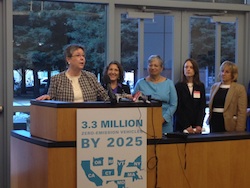 from California, Connecticut, Maryland, Massachusetts, New York, Oregon, Rhode Island and Vermont to announce an agreement to promote the accelerated adoption of zero emissions passenger cars, trucks and transit buses in these states.
"Efforts to provide consumers with new, more efficient and gasoline-free transportation options are welcome and needed," said Mark Cooper, Director of Research for CFA, who took part in the public announcement of the new agreement.
The Zero Emissions Vehicle Program: Clean Cars States Lead in Innovation, a new paper released today by CFA, explains that Zero Emissions Vehicle policy coupled with efforts to reduce barriers to clean vehicle adoption will accelerate the growth of the national market for the latest zero emissions vehicles. Based on years of polling data, the paper explains, that is exactly what American consumers want.
"The key role that California and the Clean Cars states played in accelerating the deployment of hybrids in the past decade underscores the importance of leadership in energy innovation," said Cooper.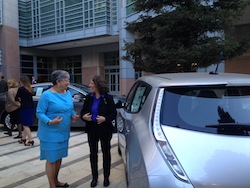 "U.S. automakers failed to ride the wave of the 'hybrid revolution' in the 1990s, and that failure proved to be a costly one," Cooper added. "U.S. automakers need to be at the leading edge of technological innovation to succeed in the increasingly competitive global auto industry and because Americans want cars that protect their pocketbooks from volatile gasoline costs. Zero emissions vehicles do just that and the ZEV program will give U.S. auto makers a leg up in their most important market."
The Sierra Club also applauded the partnership and Executive Director Micheal Brune, noted these eight states are leading the way nationally with this plan to slash carbon pollution. "When it comes to fighting climate disruption, EVs are where rubber hits the road."
Brune continued, "This announcement is possible because the president's strong new fuel economy standards have put electric vehicles in the fast lane. Sales doubled in the first half of 2013, and more models are available now than ever before. Last month, more than 35,000 people attended events in 98 cities across the country during National Plug In Day. Today's announcement will ensure that all new cars won't just use less gas, many won't use gas at all."