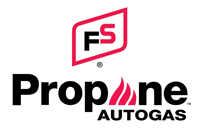 GROWMARK and local FS member companies in Illinois and Wisconsin are hosting five events this week to share information about Propane Autogas as an alternative to petroleum and compressed natural gas (CNG) fuels.
"There's quite a few sectors, such as schools, municipalities, buses, and fleets, that are starting to convert their fleets to Propane Autogas," explains GROWMARK propane marketing and business development manager Scott Long. He says while it's been around for years, the cleaner-burning, economical features, including saving up to 40 percent above what petroleum-based products cost, are really making big impressions on the fleets. "The city of Springfield, Ill. is running bifuel (able to take both propane and regular gasoline), they converted 24 vehicles to propane this past year, and they're saving about $82,000 per vehicle."
The tour kicks off today, making stops today in Carbondale, Ill., in Springfield, Ill. and Bloomington, Ill. tomorrow (Tuesday), Wednesday in Madison, Wisc., and finishing up in Wisconsin Rapids, Wisc. on Thursday. In addition to industry representatives, the events will have propane powered buses, service trucks, and vehicles on display. Attendees will have an opportunity to participate in demonstrations of the vehicles. Local FS dealers have more information on where and when to be to see the demonstrations.
Scott goes on to say that with the environmental benefits of 12 percent fewer carbon dioxide emissions, a 20 percent drop in nitrogen oxide emissions, and 60 percent fewer carbon monoxide emissions than traditional petroleum-based fuels, using Propane Autogas makes sense for big cities and rural areas.
"The benefits, not just from the economic savings are there, but also from an environmental side, too."
Listen to more of the interview with Scott here: Interview with Scott Long, GROWMARK