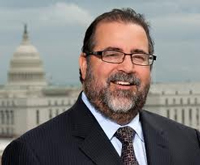 The nation's capitol is "so quiet you can hear a pin drop" but the American Petroleum Institute (API) is still working to beat the Renewable Fuel Standard (RFS), and the government shutdown means E15 retailers are unable to get approval.
"EPA right now is not answering the phones so they are not responding to marketers that are looking to offer E15," says Renewable Fuels Association (RFA) president and CEO Bob Dinneen in this edition of The Ethanol Report. "I would hate to think that the political snit that is occurring in Washington today is going to throw up yet another barrier to expanding E15."

Dinneen also talks about the API lawsuit filed this week over the volume requirements of the RFS and the possibility that the government shut down would dely EPA's release of the 2014 Renewable Volume Obligation (RVO), due out next month. "But this year, EPA took far too long to get those out," he said, noting the numbers were just released in August – nine months late without a government shut down. "You want those numbers out as early as possible so the marketplace can respond."
Listen to Bob discuss these topics and optimism in the ethanol industry here: Ethanol Report with RFA's Bob Dinneen
Subscribe to "The Ethanol Report" with this link.