Students and professors at Utah State University are raising the green flag for algae with a record breaking small engine dragster. Earlier this month at the Bonneville Salt Flats, the Aggie A-Salt Streamliner clocked in at 73.977 miles per hour – beating the current record in their division of 72.102. The team hopes to set additional records with their algal-biofueled dragster during the World of Speed taking place in Utah's west desert this week.
"The big benefit, once the price is brought down to where it's competitive with regular diesel fuel, is that it would be a totally renewable fuel," said USU Chemistry and Biochemistry Professor Lance Seefeldt in an article in the Cache Valley Daily. "It would come from CO2 and sunlight. Then when you burn it, it turns back into CO2 again."
The team of students is racing with algae biodiesel fuel that they are researching, producing and testing themselves. Graduate student Rhesa Ledbetter said that a benefit of using algae is that other resources are not being burned up.
"Producing fuel from things like corn and soybeans, things that we actually use as food products, that's a major concern. We are taking something that's food and using it as another resource. It can also start driving up costs," said Ledbetter. "So if we can use something like algae that's naturally present, I think people are much more open-minded."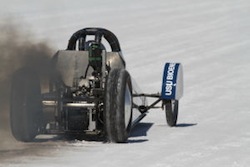 A year ago, the dragster set a land speed record while running on yeast biodiesel fuel. Seefeldt says the big difference is that yeast biodiesel fuel comes from cheese waste while algae captures carbon dioxide out of the air and uses energy from sunlight to turn it into usable fuel.
The multi-department project began six years ago and has been featured in such places as the National Biodiesel Board's annual conference where attendees were fascinated to learn about both the research and the racing.
"This is super exciting because many of the other schools working on this don't have what we have in our hands," said Research Assistant Mike Morgan who is also the driver of the dragster. "It's the opportunity to raise the flag for everybody else and show that it's doable."