U.S. based financial investor Kawa Capital Management has announced it intends to acquire the majority of sales units from Conergy as well as necessary associated
administrative, management and infrastructure functions of Conergy AG, including the "Conergy" brand. Production subsidiaries Mounting Systems GmbH and Conergy SolarModule GmbH & Co. KG are not part of this transaction.
Kawa, the Conergy Management Board and the preliminary insolvency administrator have signed a letter of intent. The parties intend to finalize the details of the envisaged transaction and the purchase agreement in the next four weeks. The purchase agreement is expected to be executed in the second half of August, subject to a number of conditions precedent including the approval of Conergy's creditor committee.
"Kawa is our preferred partner. We have been in intense negotiations about an investment in Conergy for months and have agreed on the future concept for Conergy already a long time ago," said Conergy CEO Dr. Philip Comberg. "Our expertise is highly complementary.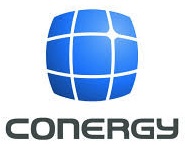 In the last two years we have consistently focused Conergy on our strengths in international sales and services. At the same time, we have developed new financing and asset management services."
Comberg continued, "With this setup, Conergy is ideally suited for the future challenges in the global solar growth markets. We want to sustainably implement this 'downstream strategy' in the international solar markets with a strong financial and strategic partner who is investing in the company for the long term. Kawa's financing and structuring capabilities combined with Conergy's global platform, track record and unparalleled expertise in downstream solar PV creates a unique and leading market player."
Kawa's objective is to acquire the two German entities Conergy Deutschland GmbH and Conergy Services GmbH as well as the subsidiaries in the U.S. and Canada, Singapore and Thailand, Australia, Spain, Italy, France, Greece, Cyprus and the United Kingdom. None of these entities has filed an application to open insolvency proceedings and each continues to operate normally. Negotiations on further international entities are ongoing.
"We are excited about this potential transaction with Conergy, a global leader in the downstream solar industry," said Daniel Ades, Managing Partner of Kawa. "The solar PV market is growing exponentially as costs approach grid parity, and Conergy is uniquely positioned to capitalize on this opportunity globally. We see a large potential in structuring and financing solar facilities across different jurisdictions, from residential to commercial rooftop to smaller scale utility projects, by packaging the predictable cash-flow streams into special financing vehicles."
"Conergy's high standards of excellence and experience, with over 2.3 GW of panels sold and installed worldwide, make Conergy a natural leader in the global downstream solar PV market and a natural partner for successfully executing this strategy," added Ades.