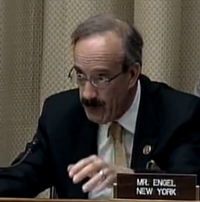 Congressman Eliot Engel (D-NY) and Congresswoman Ileana Ros-Lehtinen (R-FL) this week introduced the Open Fuel Standard Act (H.R. 2493) in the House, legislation which would require 30 percent of new automobiles in 2016, 50 percent in 2017, and 50 percent in each subsequent year, to operate on non-petroleum fuels in addition to or instead of petroleum-based fuels.
"This could include ethanol, methanol, natural gas, electricity, biodiesel, hydrogen or a new technology," said Rep. Engel, who has sponsored the bill in previous sessions of Congress, during yesterday's hearing on the Renewable Fuel Standard, saying that he believes the legislation would complement the RFS. "It would empower consumers to make a choice about which fuel is best for them."
Engel says he got the idea for the legislation during a visit to Brazil many years ago when he noticed the variety of fuel choices consumers had. "If it works in Brazil, it can work here if we wish it to work," he said. Rep. Eliot Engel
"This is all about choice," said Renewable Fuels Association President and CEO Bob Dinneen in support of the bill. "Consumers want a choice other than petroleum. A recent poll showed that 76 percent of Americans wanted manufacturers to produce vehicles that run on fuels other than oil. The goal here is to offer consumers the most cost effective and clean energy choice possible."
The bill also features original co-sponsors Reps. Steve Israel (D-NY-03), Allyson Schwartz (D-PA-13), Tom Cole (R-OK-04), Collin Peterson (D-MN-07) and Del. Madeleine Bordallo (D-Guam).