DIRECTV is expanding its propane autogas fleet. The company currently operates 77 ROUSH CleanTech Ford E-250 propane autogas vans and will increase that number over the next year. After comparing alternative fuel options, DIRECTV said they chose propane autogas due to its low cost and accessibility of fuel; vehicle return on investment; domestic nature of the fuel source and vehicle supply chain; and accessibility to high occupancy vehicle lanes.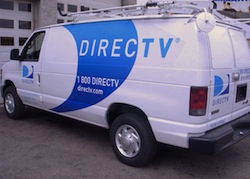 "The addition of more propane autogas fueled vehicles to the DIRECTV fleet strengthens our commitment to reducing the company's overall gasoline usage," said Brandon Morris, director of Fleet Services for DIRECTV. "We have learned a lot from analyzing our current propane fleet, and the benefits we are seeing from using propane as an alternative to gasoline include the lower cost of propane, ease of implementation, distribution network, and the high quality conversion kit produced by ROUSH CleanTech."
Since its propane autogas vehicle deployment in November 2011, DIRECTV has reduced gasoline consumption by 75,000 gallons and saved nearly 50 percent on a cost per gallon basis compared to gasoline.
"For over a year and a half, DIRECTV's service vans fueled by reliable, cost-competitive propane autogas have met the company's goals — to cut back on high-priced gasoline with the use of a domestic, cleaner fuel solution," added Todd Mouw, vice president of sales and marketing for ROUSH CleanTech. "With DIRECTV's plan to increase the size of its propane autogas fleet, they'll experience even greater cost-savings with this alternative fuel technology and further strengthen their position as a leader in alternative fuel initiatives."